Camp Fish Tales provides a place for individuals with special needs to experience the outdoors, connect with peers and develop skills that enhance their quality of life. To cast your vote, visit our Make More Happen website at https://www.agentgiving.com/ieuter-insurance-group/ between Nov. 10 and Nov 17, 2021. If the campaign reaches 500 votes, the $5,000 donation they've already earned doubles to $10,000!

Creating happy campers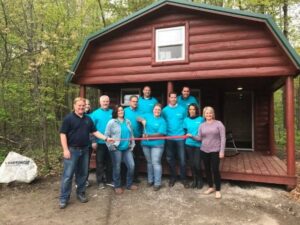 Ieuter Insurance Group employees are pictured participating in a ribbon cutting celebration for a new sensory cabin at Camp Fish Tales.
Attending camp is a memorable rite of passage for many kids and young adults. Camp Fish Tales was founded in 1989 to help ensure that those with disabilities have the same chance to experience camp in a safe, supportive and accessible environment.
In 1996, the camp expanded to its current location when it purchased about 67 acres near Pinconning, Michigan. This location provides a place for those with special needs to make new friends while enjoying fishing, hiking, boating, swimming, archery, crafts, talent shows, bonfires and other classic summer camp activities.
The organization offers weekend or week-long sessions tailored to different needs and age groups. Along with experiencing the joy and camaraderie of camp, the programs are designed to build confidence and help campers develop social, emotional and cognitive skills. For many of them, it's a rare opportunity to be independent and away from home while having fun with their peers. The time away also gives parents and caregivers a respite while knowing their loved ones are entertained and well cared for.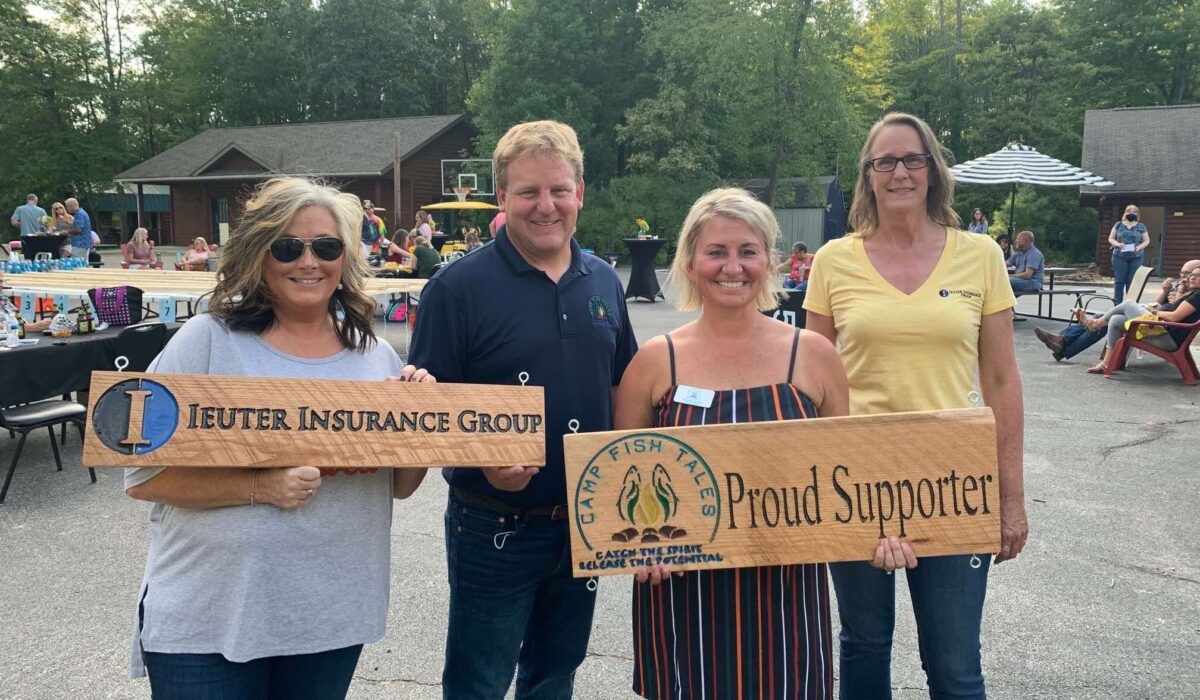 Vicky Goodall, Karl Ieuter and Allison Lambert from Ieuter Insurance Group pose with Shannon Forshee, Executive Director of Camp Fish Tales. These plaques went on a cabin to recognize Ieuter's sponsorship of the camp.
Raising money and spreading joy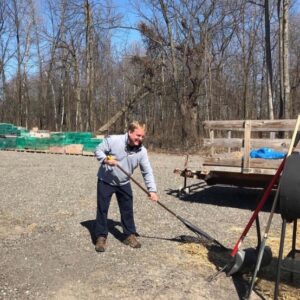 Karl Ieuter is pictured cleaning up in preparation for another camp season. He and other agency employees spend many weekends each year preparing the facilities for the next round of campers.
Located in Midland, Michigan, the Ieuter Insurance Group has supported Camp Fish Tales in multiple ways for more than five years. Along with generous financial support, Ieuter employees volunteer at the camp, help with fundraisers, provide printing and postage services and contribute in other ways. In addition, independent agent Karl Ieuter is the vice chair of the board of directors and serves on several committees.
Karl also won the camp's "Keep the Fire Burning" Award. The tradition at camp is to save the ashes from the last campfire and use them to start the first fire of the next season, which symbolizes his ongoing passion for Camp Fish Tales and its campers.
The insurance group also supports the annual Fish Races, one of the camp's major fundraisers. This popular event is supported by local businesses that decorate and sponsor wooden fish that "race" to the finish line based on dice rolls to raise money.
"This camp means so much to those with special needs, especially those who have never been on a pontoon boat, slept in a cabin or walked in the woods," said Ieuter. "The camp offers a fun, safe space for campers to be themselves among peers without barriers or limits to accessibility."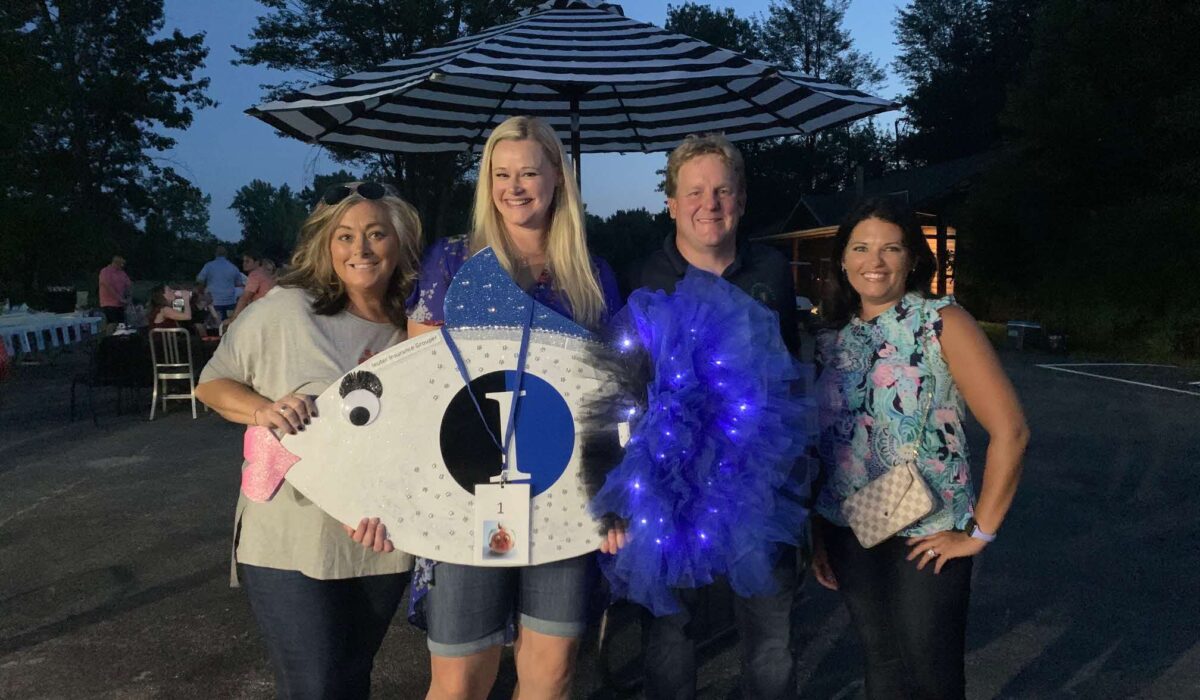 Vicky Goodall, Corrie Van Eck, Karl Ieuter and Dawn Sczepanski of Ieuter Insurance Group pose with their fish — the "Ieuter Insurance Grouper" — at Camp Fish Tales's Annual Fish Races fundraiser.
Specially designed for fun
One of the most popular camp features is the inclusive playground equipment. A wheelchair platform swing, specialized merry-go-rounds, the only handicap-accessible zipline in Michigan and a tailored archery range allow everyone to enjoy a full summer camp experience.
Everything at the camp, from lodges to cabins to all outdoor recreation areas, is barrier-free and accessible to everyone. Spending time in a facility tailored to their unique needs gives those with disabilities the chance to be independent and in greater control of their environment — which creates a feeling of freedom that everyone deserves.
"The camp offers a fun, safe space for kids to be themselves among peers without barriers or limits to accessibility."
– Karl Ieuter, Agent, Ieuter Insurance Group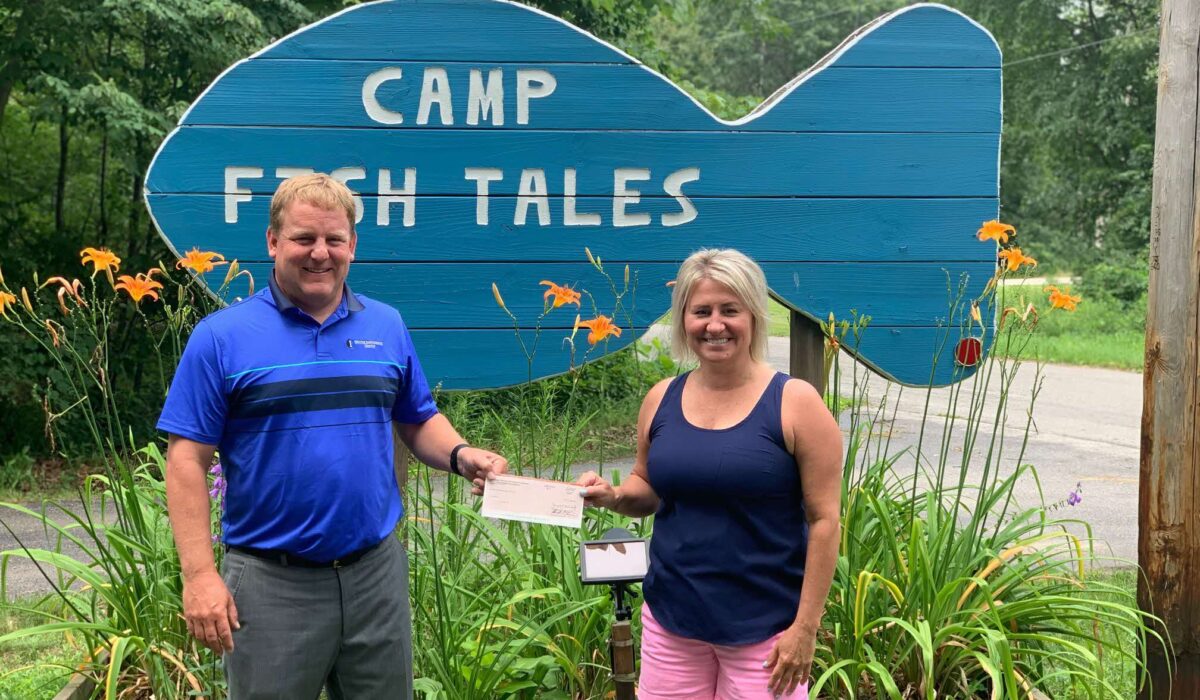 Ieuter Insurance Group is also a financial supporter of the nonprofit. Here Karl Ieuter has the honor of handing over a donation check to CFT Director Shannon Forshee.
Expanding access to scholarships
Camp Fish Tales's policy is to never turn a camper away because of an inability to pay. But as interest in the camp increases, it's becoming more challenging to offer scholarships to all who need them. A $10,000 donation from Liberty Mutual and Safeco Insurance would help 15 deserving campers attend a week-long summer session, at no cost to their families or caregivers.

Please visit the campaign page to vote, and please SHARE with your friends, family, and coworkers. 500 likes is a LOT, but we know our community will rally and make this happen for this incredible camp!
https://www.agentgiving.com/ieuter-insurance-group/