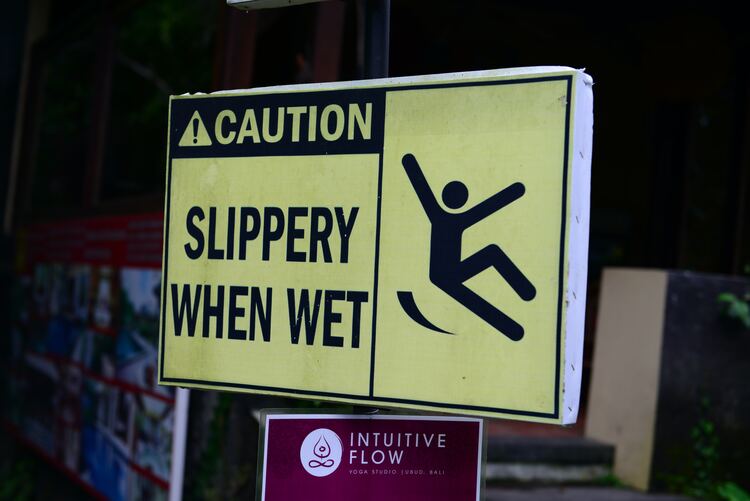 Every year there are reported cases of ER visits for around 8 million people slipping and falling at a place of business, according to the National Floor Safety Institute.
Slip-and-fall accidents aren't the #1 cause of workplace injuries, but most certainly a leading cause. Someone falling at your place of business is not a quick band aid, it could cause a domino effect on the business. For example, the place could be sued by injured workers for personal injury claims for accidents sustained in the workplace, which can have a serious impact on the financial health of your business. Here is a list of easy steps to avoid people slipping and falling and impacting your business.
1. Check for Hazards – Walk around the premises and identify anything that may become a hazard for tripping and falling. Examples include slippery floors, uneven floors, gaps, and cracked or uneven walkways.
2. Improve safety with visible signage - For issues that cannot be fixed immediately, you can post a brightly colored warning sign. For example: Employees can place "wet floor" signs where needed after mopping or even cordon off slippery areas.
3. Keep surfaces and walkways clean and clutter free - Keeping walkways clear can help you reduce
the chances of an accident or injury occurring.
4. Use proper footwear - Make sure your employees wear footwear that is appropriate. Shoes with adequate traction should be mandatory.
5. Install non-skid rugs on slippery surfaces - Titles or hardwood floors are idea in the areas that are prone to splashes. Putting a non-skid rug with padding underneath will help prevent any slippage.
Final thoughts: One of the best ways to prevent a slip and fall accident or a lawsuit is to regularly inspect your business to identify areas that have the highest risks. Keep records of your hazard inspections and what was done to eliminate the issues. Display warning signs for known hazards. If there is an accident complete a thorough incident report after every slip and fall accident, also get eyewitness statements. Last, NEVER admit fault for an accident until after you consult with a personal injury lawyer and speak to your insurance provider about the circumstance.
Your Friends In The Insurance Business at Midland's Ieuter Insurance Group can answer your business insurance coverage questions.
For all your insurance needs, visit us at https://www.ieuter.com
Ieuter Insurance Group - 414 Townsend St Midland MI 48640
(989) 487-1758
Social accounts:
https://www.facebook.com/ieuterinsurancegroup/
https://twitter.com/ieuterinsurance
https://www.linkedin.com/company/ieuter-insurance-group/
https://www.instagram.com/ieuterinsurance/