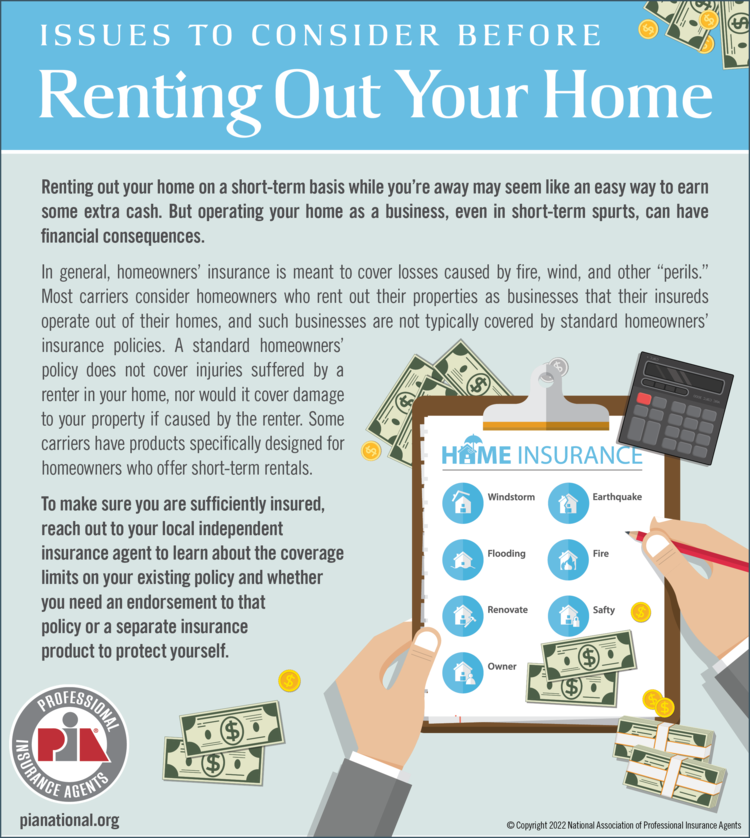 Issues to Consider Before Renting Out Your Home
Renting out your home on a short-term basis while you're away may seem like an easy way to earn some extra cash. But operating your home as a business, even in short-term spurts, can have financial consequences.
In general, homeowners' insurance is meant to cover losses caused by fire, wind, and other "perils." Most carriers consider homeowners who rent out their properties as businesses that their insureds operate out of their homes, and such businesses are not typically covered by standard homeowners' insurance policies. A standard homeowners' policy does not cover injuries suffered by a renter in your home, nor would it cover damage to your property if caused by the renter. Some carriers have products specifically designed for homeowners who offer short-term rentals.
To make sure you are sufficiently insured, reach out to your local independent insurance agent to learn about the coverage limits on your existing policy and whether you need an endorsement to that policy or a separate insurance product to protect yourself.

For all your insurance needs, visit us at https://www.ieuter.com
Ieuter Insurance Group - 414 Townsend St Midland MI 48640
(989) 487-1758
Social accounts:
https://www.facebook.com/ieuterinsurancegroup/
https://twitter.com/ieuterinsurance
https://www.linkedin.com/company/ieuter-insurance-group/
https://www.instagram.com/ieuterinsurance/