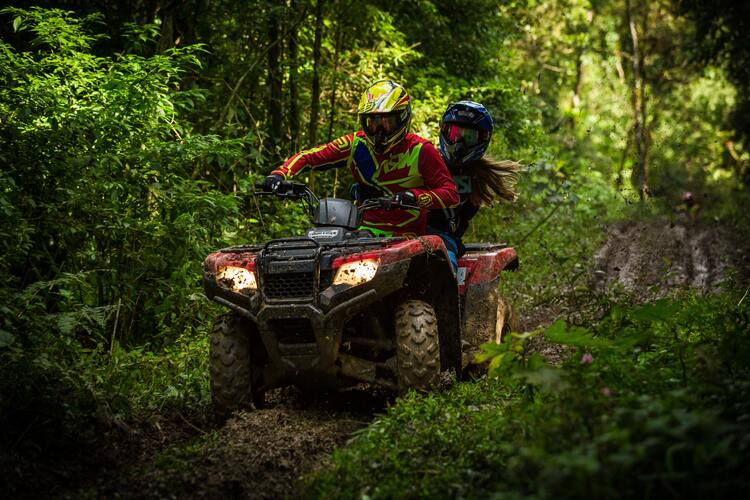 Both Michigan residents and out-of-state visitors can enjoy DNR-designated routes and trails without purchasing an ORV license or trail permit this weekend (August 20-21, 2022). Here's some tips to enjoy free-ATV weekend safely.

All-terrain vehicles (ATVs) don't have roll bars, safety cages, or seatbelts. They're also top-heavy, increasing the likelihood that they will roll over in a crash, and the lack of seatbelts or other restraints makes it more likely that a rider will be thrown from an ATV in an accident. There are no federal laws or regulations governing the use of ATVs, so rules and laws vary by state. Some states prohibit children younger than 16 years old from riding ATVs, and some require riders to obtain a special certification to permit them to ride.
Here are some tips to keep you safe when riding an ATV:
Follow state and local law regarding who may ride and whether certification is required

Wear a helmet and eye protection

Bring a charged cellphone to contact someone for help in an emergency

Minimize distractions while riding

Stay away from paved roads
If you own an ATV, check out your state laws and regulations to make sure you're following them. If you aren't sure whether your insurance covers ATV losses (theft, property damage, personal injury, etc.), contact your local independent insurance agent for more information.

For all your insurance needs, visit us at https://www.ieuter.com
Ieuter Insurance Group - 414 Townsend St Midland MI 48640
(989) 487-1758
Social accounts:
https://www.facebook.com/ieuterinsurancegroup/
https://twitter.com/ieuterinsurance
https://www.linkedin.com/company/ieuter-insurance-group/
https://www.instagram.com/ieuterinsurance/

Photo by Elievan" class="redactor-linkify-object">https://unsplash.com/@ejr189?u... Junior on Unsplash