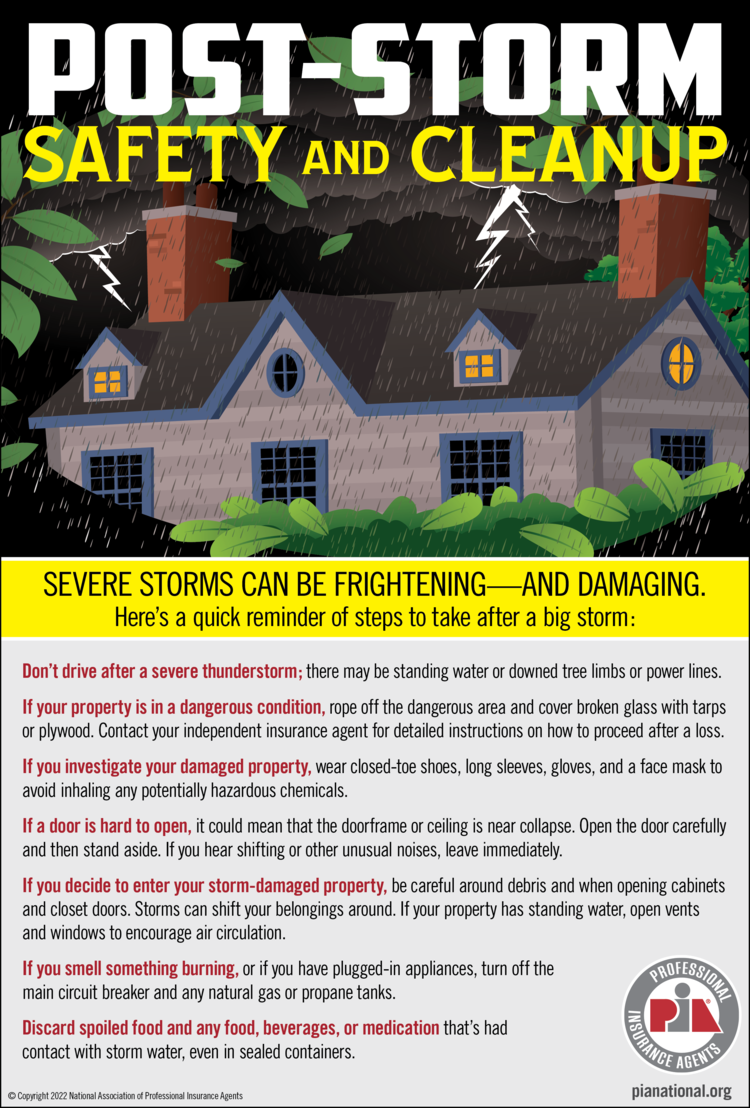 Much of our region saw some serious storms come through in the last 24 hours.Severe storms can be frightening—and damaging. Here's a quick reminder of steps to take after a big storm:
Don't drive after a severe thunderstorm; there may be standing water or downed tree limbs or power lines.

If your property is in a dangerous condition, rope off the dangerous area and cover broken glass with tarps or plywood. Contact your independent insurance agent for detailed instructions on how to proceed after a loss.

If you investigate your damaged property, wear closed-toe shoes, long sleeves, gloves, and a face mask to avoid inhaling any potentially hazardous chemicals.

If a door is hard to open, it could mean that the door frame or ceiling is near collapse. Open the door carefully and then stand aside. If you hear shifting or other unusual noises, leave immediately.

If you decide to enter your storm-damaged property, be careful around debris and when opening cabinets and closet doors. Storms can shift your belongings around. If your property has standing water, open vents and windows to encourage air circulation.

If you smell something burning, or if you have plugged-in appliances, turn off the main circuit breaker and any natural gas or propane tanks.

Discard spoiled food and any food, beverages, or medication that's had contact with storm water, even in sealed containers.
For all your insurance needs, visit us at https://www.ieuter.com
Ieuter Insurance Group - 414 Townsend St Midland MI 48640
(989) 487-1758
Social accounts:
https://www.facebook.com/ieuterinsurancegroup/
https://twitter.com/ieuterinsurance
https://www.linkedin.com/company/ieuter-insurance-group/
https://www.instagram.com/ieuterinsurance/