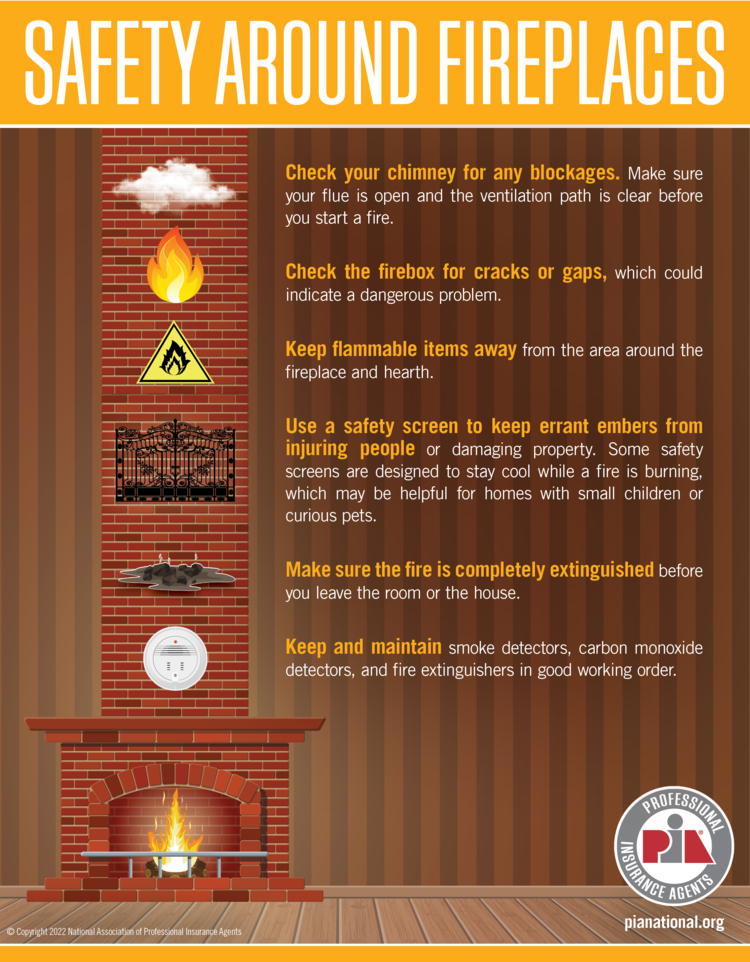 As chilly fall evenings are finally upon us, Your Friends In The Insurance Business at Ieuter Insurance Group are thinking about fireplace safety.

Here's some safety tips from our friends at the National Association of Professional Insurance Agents (PIA):

1. Check your chimney for any blockages. Make sure your flue is open and the ventilation path is clear before you start a fire.
2. Check the firebox for cracks or gaps, which could indicate a dangerous problem.
3. Keep flammable items away from the area around the fireplace and hearth.
4. Use a safety screen to keep errant embers from injuring people or damaging property. Some safety screens are designed to stay cool while a fire is burning, which may be helpful for homes with small children or curious pets.
5. Make sure the fire is completely extinguished before you leave the room or the house.
6. Keep and maintain smoke detectors, carbon monoxide detectors, and fire extinguishers in good working order.
Please also use extra caution with campfires and fire pits this fall as our recent trend of dry weather increases risk of stray ashes causing nearby leaves, kindling and more from catching fire.

Your Friends In The Insurance Business at Midland's Ieuter Insurance Group can answer your home insurance coverage questions.
For all your insurance needs, visit us at https://www.ieuter.com
Ieuter Insurance Group - 414 Townsend St Midland MI 48640
(989) 487-1758
Social accounts:
https://www.facebook.com/ieuterinsurancegroup/
https://twitter.com/ieuterinsurance
https://www.linkedin.com/company/ieuter-insurance-group/
https://www.instagram.com/ieuterinsurance/