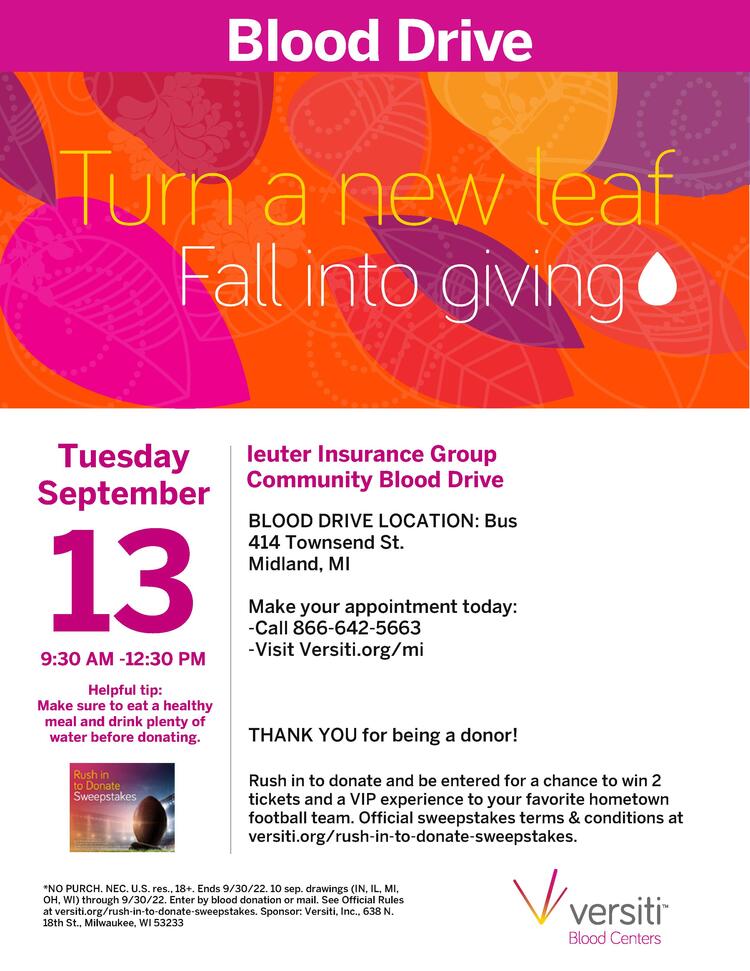 Your Friends In The Insurance Business at Ieuter Insurance Group are proud to be once again partnering with Versiti Blood Center of Michigan for a blood drive on September 13.
We asked a few members of the five-gallon club (people who've donated over five gallons of blood over many years worth of donations) at Ieuter why donation is so important to them. Here's what they had to say:

Karl Ieuter: "Helping others means everything to me, my family, and the Ieuter Insurance Group team. I can't highly enough recommend getting in the habit of giving blood. Just 15 minutes of your time can save lives. It's such an important thing to do."

Cal Ieuter: "I give blood whenever I can. It's an easy way to help people in need. It makes me feel good to think I can make a difference in someone's life."
Lisa Grzegorczyk, who hit the five-gallon donation threshold at our last mobile blood drive, had this to say: "My uncle was in a bad car accident and he needed a blood transfusion, that's what made me start 23 years ago. I also found out that my blood is considered pure because I don't take any medications, so is used for children and babies, so I donate as often as I can. Even if we don't have a blood drive here at work and I'm eligible, I make an attempt to go to other drives or I go to my local Versiti Blood location. I never really kept track of how many times or gallons I've given over the years but when it was brought to my attention on the bus I was quit surprised. Several people on the bus congratulated me and it made me feel so good to help."
We hope you'll join them in making a difference by donating blood at our September 13 drive. Donors also get entered to win a VIP hometown sports experience offered by our partners, Versiti Blood Center of Michigan. The link to register is here: https://donate.michigan.versit...

For all your insurance needs, visit us at https://www.ieuter.com
Ieuter Insurance Group - 414 Townsend St Midland MI 48640
(989) 487-1758
Social accounts:
https://www.facebook.com/ieuterinsurancegroup/
https://twitter.com/ieuterinsurance
https://www.linkedin.com/company/ieuter-insurance-group/
https://www.instagram.com/ieuterinsurance/